For ambitious entrepreneurs, owning a global business is the ultimate dream. From boosting access to the best talent to diversifying your corporate assets, there are numerous reasons to expand overseas.
International expansion can be a necessary step, helping to prevent business stagnation and boost revenue. But, it is vital to expand at the right time and into the correct markets.
Learn how to recognize the signs your business is ready to jet off to new horizons.
You have recently scaled, but progress has slowed
If your business has scaled significantly in the last three to five years – and though business is booming, securing further growth has become a challenge – it could be time to take the leap.
Global expansion offers the opportunity to tap into fresh markets, accessing a wealth of new opportunities. Placing a geographical limit on your company's access to demand makes sense only for a limited period.
Once your business is established, expanding the potential of your corporate base can bring your business up to speed with the right partners and clients, moving you closer to your business goals.
America is the world's largest economy, making the US a favourite for business owners across the world. But, with niche markets scattered across various states, a perfectly compatible location could be ready and waiting.
International visitors show more interest than locals
To run a successful business, your products or services need to meet a demand. Culture, demographics, economic status and established regional industries all impact company profits. If your business would better fit elsewhere, it could be time to make the move.
If curious attention from international visitors is a mainstay of industry conferences, it's worth asking why this is. Perhaps Japanese culture prefers your product, or the fast-paced American business environment is better suited to your services. If so, follow the demand and expand your business overseas.
When selecting the ideal market for your product or service, think about: population, wealth, online user behaviour, and business to business potential. It's also a good idea to assess your direct competitors – and consider how you can do things better.
Your emails and online sales are bursting with overseas interest
Likewise, if long-distance clients are scrambling to do business, this could be a sign your organization would do better overseas. Use web analytics tools to track where the most interest is coming from, and reach out across borders.
Establish strong links with international clients, hire employees with deep knowledge of local networking culture – and start expanding.
You are confident in your ability to balance the high-level and localized presence
For your international business plan to work, it's important to take a feet-on-the-ground approach. For efficient operations, you need a direct presence of trusted employees in each local market – as well as strong high-level oversight.
Hire an employee in America, then optimize the communication pathways between your existing headquarters and new overseas office. Take some time to consider any local partners you'll work with, and have a step-by-step operations management plan in place.
Keep your infrastructure viable but minimalistic, with strong top-down control.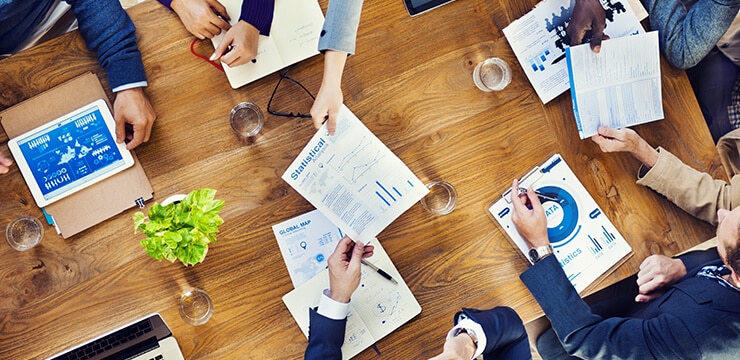 You are familiar with the customers and suppliers you'll work with overseas
Running your business from a new location can be logistically challenging, especially in the early days. How will you source essential materials on an entirely new continent, or establish the confidence of new clients who are unfamiliar with your brand?
Aside from ensuring you're able to hire smart and create a professional image in your new location, it's a good idea to plan any third party services you'll need for efficient international transactions.
You have advanced production potential, but you're no longer filling capacity
Underutilizing your business capacity is a sign your business needs new leads, new clients, and more frequent sales. If a single country is no longer enough to keep your business working to its full potential, look overseas to retain optimal profits.
Positioning a handful of skilled Sales or Marketing professionals in your chosen markets is a simple way to direct leads back to HQ in the short term. Meanwhile, positioning trusted employees on the ground also paves the way for long term growth.
You understand the task ahead
When to scale your business is a very personal decision for business owners. Many factors will be unique to your business, and there is no fast track route to multinational corporate success.
While all business decisions carry a degree of risk, it's possible to manage that risk and maximize your chances of success. Choosing the right method for overseas expansion can spell the difference between success and failure.
Our successful case studies show how the Employee Management Service could be a lower-risk, cost-effective alternative to setting up a subsidiary in America. However, some types of organizations may need a subsidiary, so it's important to create a business plan tailored to your individual needs.
Above all, for international expansion that works, you need enthusiasm for your chosen markets and a practical approach.
Need a little help with your initial plans? Contact us today and discover how your business can expand into new frontiers.