Mental health is the foundation for our health and well-being. It gives us the ability to cope with everyday pressures, manage changes in our lives, and helps us to bounce back from difficulties.
Now, every employee exists somewhere on the mental health continuum, from surviving to thriving. It's normal for the employee's position on this continuum to fluctuate.
However, Champion Health's Employee Wellbeing Statistics (2023) show that the mental state of professionals worldwide is currently under significant strain.
76% of our professionals are experiencing moderate to high levels of work-related stress.
(Champion Health)

 

60% of employees feel anxious. (Champion Health)

 

56% are experiencing symptoms of depression. (Champion Health)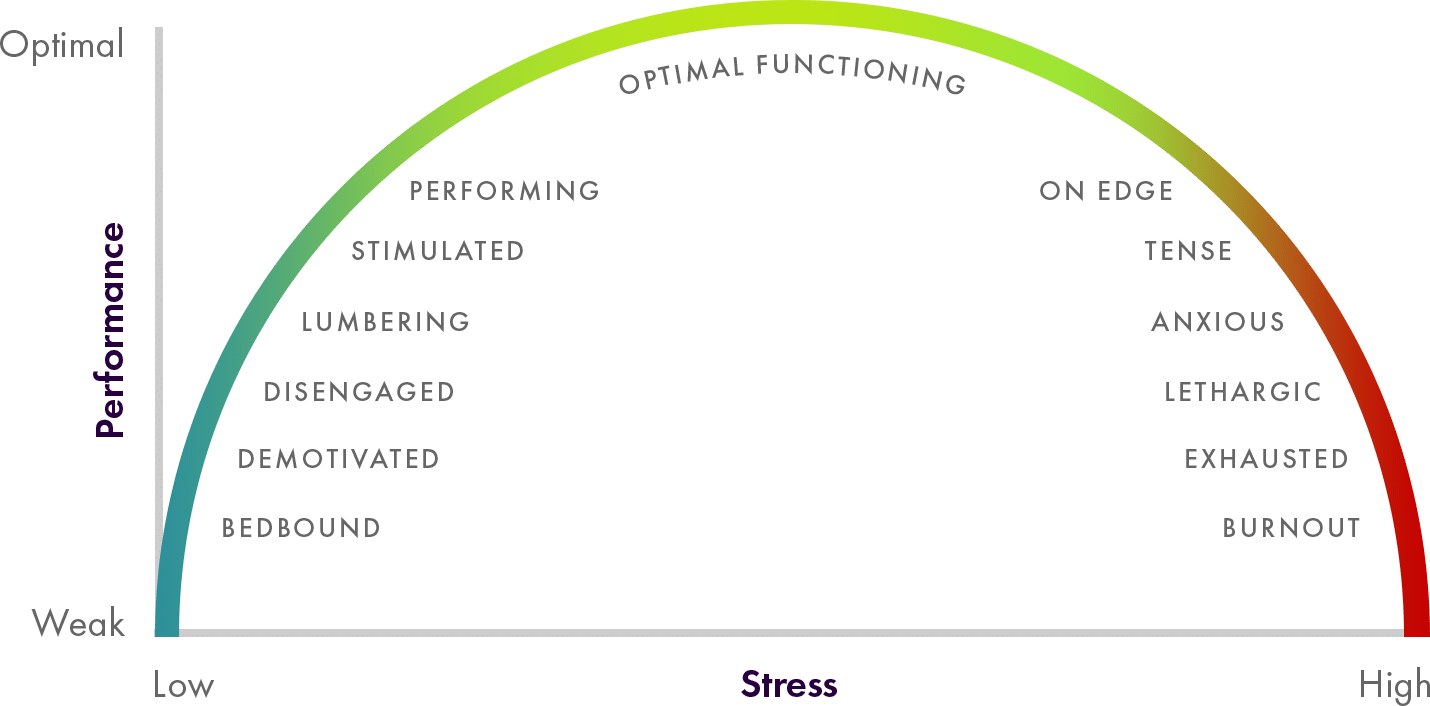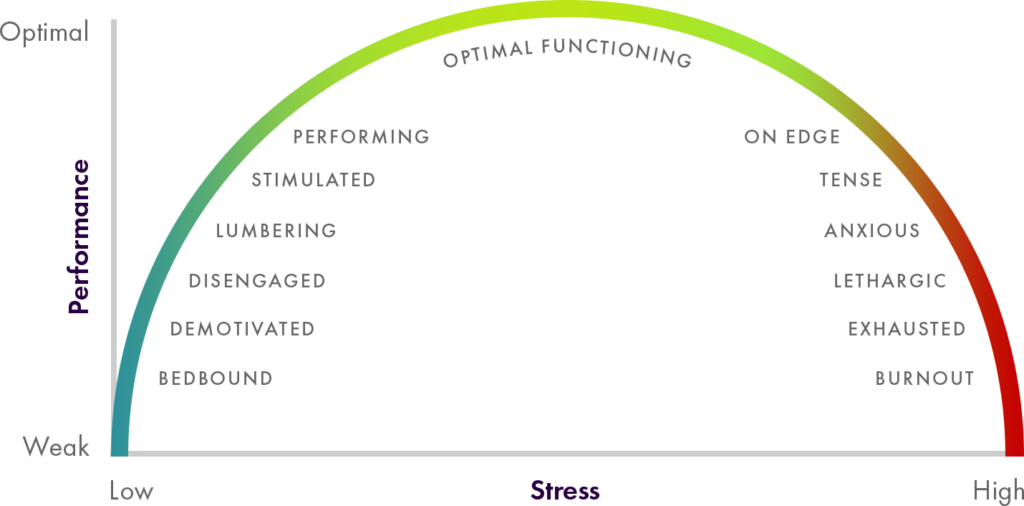 (Illustration of healthy stress compared to unmanageable pressure and stress at a workplace)
Why does this matter?
Poor mental health can seriously disrupt a person's ability to cope with day-to-day life, which in turn can have an impact on their relationships, work, and overall quality of life. Mental health problems are characterised by changes in thinking, mood, or behaviour, and include anxiety and depression.
Employers must recognize the importance of employee mental health while striving to offer employees a wealth of resources to support happier, healthier, and more productive workforces.
Various factors in the workplace can cause stress or increase the risk of developing or worsening existing mental health problems. These include unrealistic workloads, lack of support, long hours, poor management practices, bullying or harassment, lack of communication, unclear role and responsibilities, poor work/life balance, and lack of opportunities for career progression. It is extremely important that employers pay close attention to their employees' well-being, as productivity, performance, attendance, staff retention, and morale are all affected when employees experience poor mental health.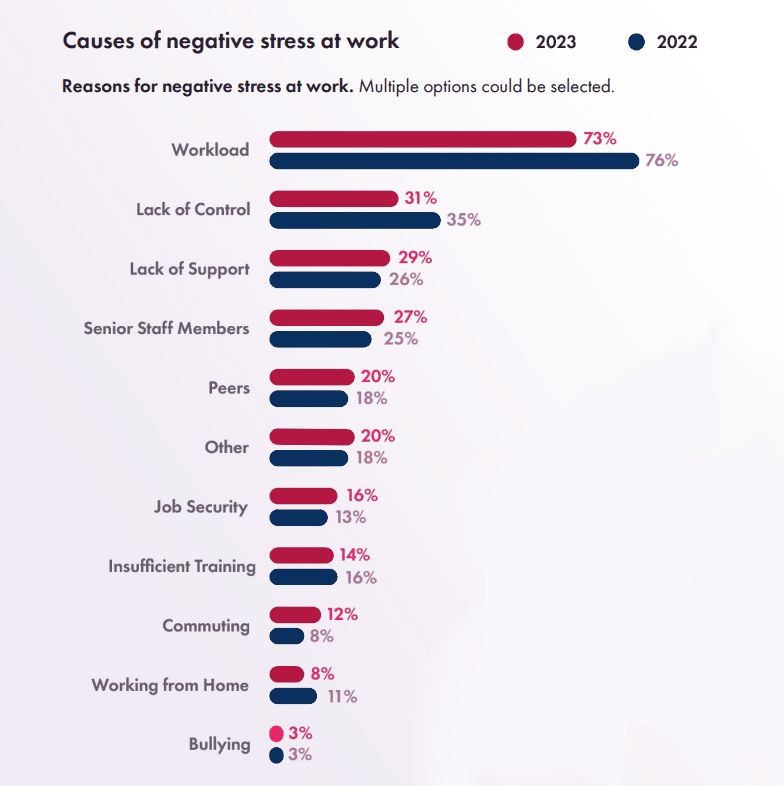 (Source: Champion Health – Workplace Health Report 2023)
On top of that, there is often a stigma associated with poor mental health. The concern of being stigmatized may prevent employees from seeking help from their employer or other sources of support. Supervisors and management should always be mindful of this perception as it may be hard to determine that an employee is struggling with their mental health, especially if working remotely.
Recognizing the Warning Signs
An employee's mental health condition may affect the team and workplace altogether. As a result, it is helpful for a supervisor to understand common mental health conditions and how they may affect the employees. The two most common mental health conditions are Anxiety and Depression. Now, while stress may not constitute a formal diagnosis, it is considered a mental health concern that supervisors should be aware of as it is one of the most prevalent issues employees face.
Data from the CIPD revealed that 60% of workers are experiencing symptoms of anxiety, 56% of workers are experiencing symptoms of depression, and 76% are experiencing moderate-to-high levels of stress.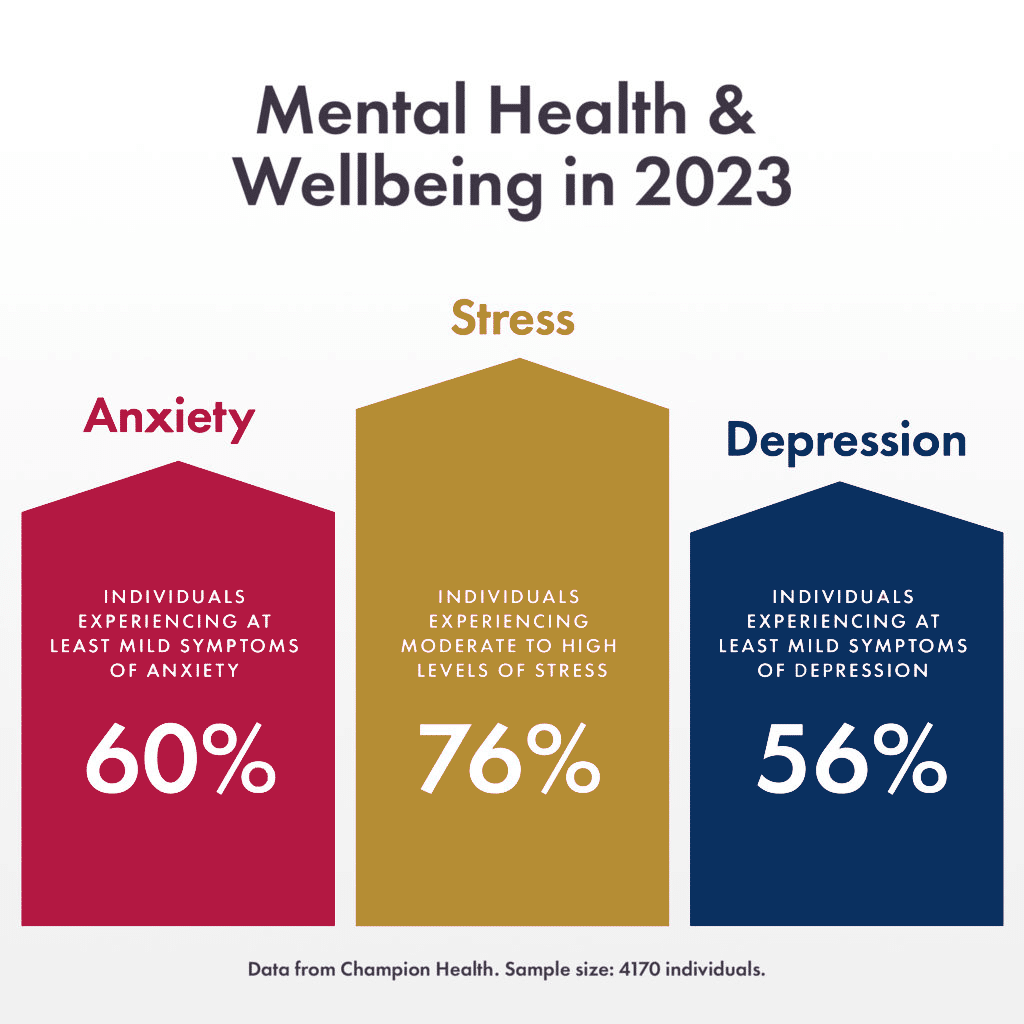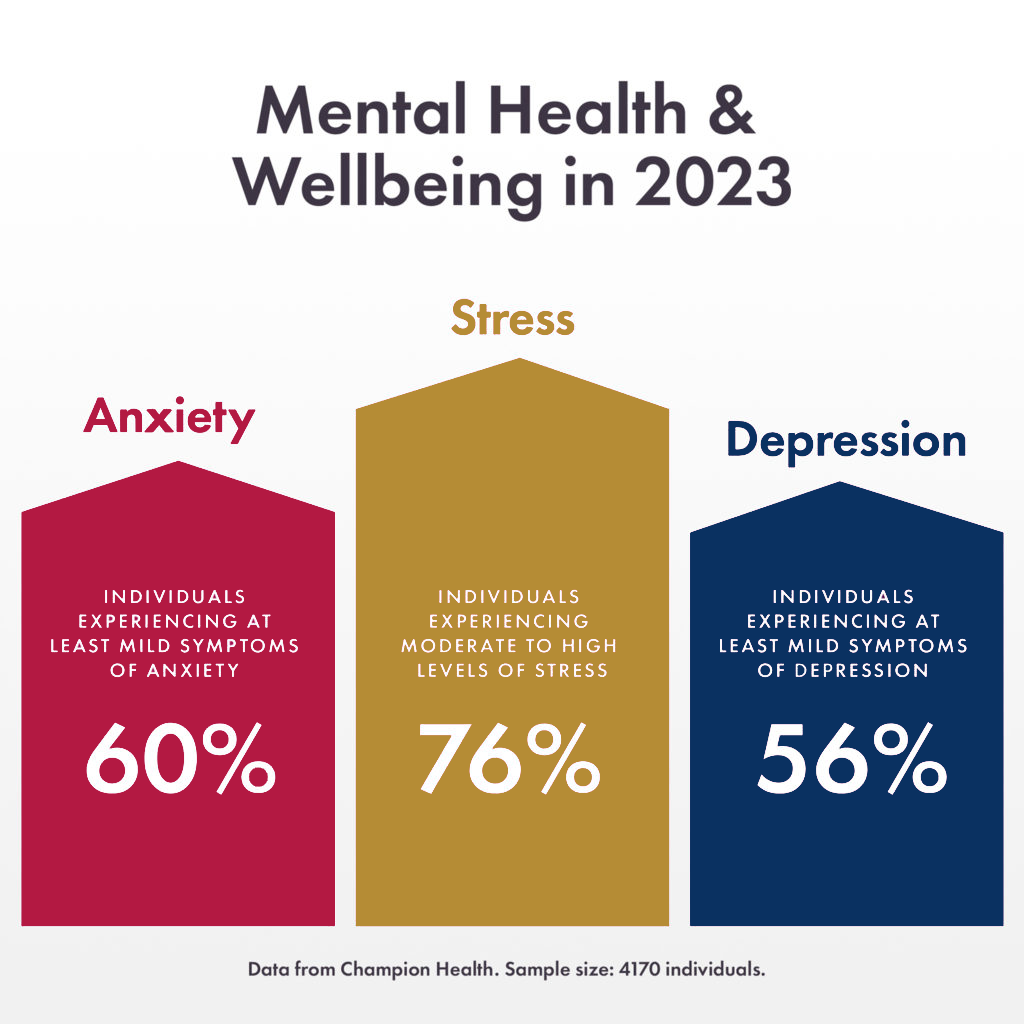 It is important to remember that these issues aren't just limited to mental health. Your employees could be suffering from pain, sleeping badly, or struggling with relationship issues, but not talking about it at work. Below is a list of the most common causes of stress outside of work, conducted by Champion Health.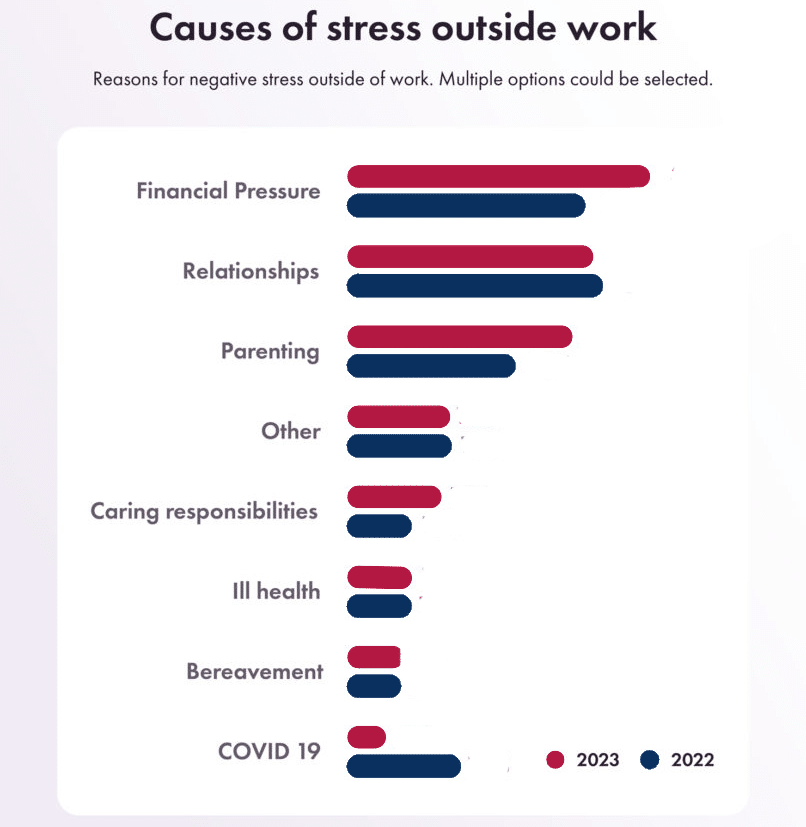 With so many people affected, knowing how to spot the signs of poor mental health in the workplace is a key skill to have as a leader, manager, or colleague.
A supervisor may be able to identify potential issues early before they develop into more serious problems by paying attention to changes in an employee's behaviour.
Below are some of the potential early warning signs of poor mental health:
• Decreased productivity
• Increased absenteeism
• Inconsistent performance
• Uncharacteristic behaviour
• Low levels of engagement
• Disinterest in work or day-to-day activities
• Changes in working patterns
• Withdrawal from social situations
• Substance use/misuse
If you notice any of these signs, it's important you start the conversation. Recognizing changes to an employee's typical work habits, behaviour, or personality provides an opportunity for the supervisor to discuss and explore the issue further with the employee. While they might not always be indicative of a mental health problem, it's still important to find out.
While many organisations currently invest in mental health support, Champion Health's 2023 research reveals that not enough employees are engaging in these conversations or addressing these issues. In fact, only 10% of employees are currently seeking support for their mental health. It is safe to say that this number is alarming. This could be due to the fact that many employees are wary of discussing their mental health concerns and some are worried about the impact that it will have on their careers.
For senior management, identifying employees who may be experiencing mental health issues can be extremely difficult, especially if the working environment is not conducive to people opening up about their mental health.
On the other hand, employees need space and opportunity to look after their mental health. This starts with an open culture that gives employees time to prioritise their well-being.
Now, of course, every person is different, and many factors influence whether someone does (or doesn't) access support. However, there are actions you can take now to improve help-seeking behaviour at your workplace.
Employers can help to shape the dynamic across the organization by encouraging others to speak up about their feelings and emotions, while openly sharing their personal challenges. As a result, this may foster a culture where employees not only feel heard and valued but feel more comfortable with being transparent about their struggles with mental health.
When concerned that an employee is displaying signs of poor mental health, it is important for a supervisor to arrange a conversation with the employee before the signs become more serious. As this may be a difficult conversation to have, the following are several suggestions to consider when discussing your concerns:
 Set aside enough time and be present in the conversation by ensuring there are no interruptions.
Be aware of non-verbal communication, such as body language, facial expressions, and tone of voice.
Actively listen by providing a safe space for employees to discuss their feelings and emotions.
Show compassion and empathy.
Be open-minded and mindful of the language used to avoid feelings of judgement and dismissiveness.
Consider requests for reasonable accommodations, such as an extended leave of absence.
Take notes after the discussion with the employee to promote the feeling of connectivity during the conversation.
Address the next steps by maintaining contact with the employee and determining the best course of action.
Make the employee aware that the information shared remains confidential.
Remember, by stimulating conversations about well-being throughout your business, you'll help to break down the stigma surrounding mental health and start building a culture of openness and support.
Employers should inform all employees of the resources available to them that may serve as a source of support. This can be done regularly through email communications or periodically such as offering a wellness seminar. The goal is to make employees aware that their well-being is a top priority to your organization!
Resources may include:
Employee Assistance Programs (EAPs) which promotes the mental health of an employee by offering services on a confidential basis to employees regarding mental health concerns such as stress, depression, and substance abuse.
Employee-sponsored health benefits that typically include coverage for mental health.
Paid time off benefits to encourage employees to take time off as needed for wellness purposes.
Your employees will remember how you, their employer, treat them in difficult moments. If an employee is experiencing work-related issues such as stress, depression, or anxiety, take the opportunity to demonstrate your commitment to their well-being.
By doing so, you can drive a culture of thriving and high performance throughout your organisation, where employees are able to perform at their best while thriving inside and outside of the workplace. Encouraging a healthy work-life balance while offering support during times of need will allow employees to feel empowered to take the additional steps to look after their overall well-being.