When it comes to incorporating a business, Delaware has long been the preferred choice for entrepreneurs and startups alike. Known for its business-friendly legal framework and favorable tax conditions, Delaware offers numerous advantages for companies seeking to establish a strong foundation for growth and success. However, it is essential to consider the disadvantages and common misconceptions before making a final decision. This article will explore the pros and cons of incorporating in Delaware, highlight popular companies incorporated in the state, and provide key information for those considering Delaware as a destination for business expansion.
Pros of Incorporating a company in Delaware
Delaware's business-friendly laws and efficient filing process have attracted a multitude of corporations, including more than two-thirds of Fortune 500 companies. Explore the advantages of incorporating your business in Delaware below.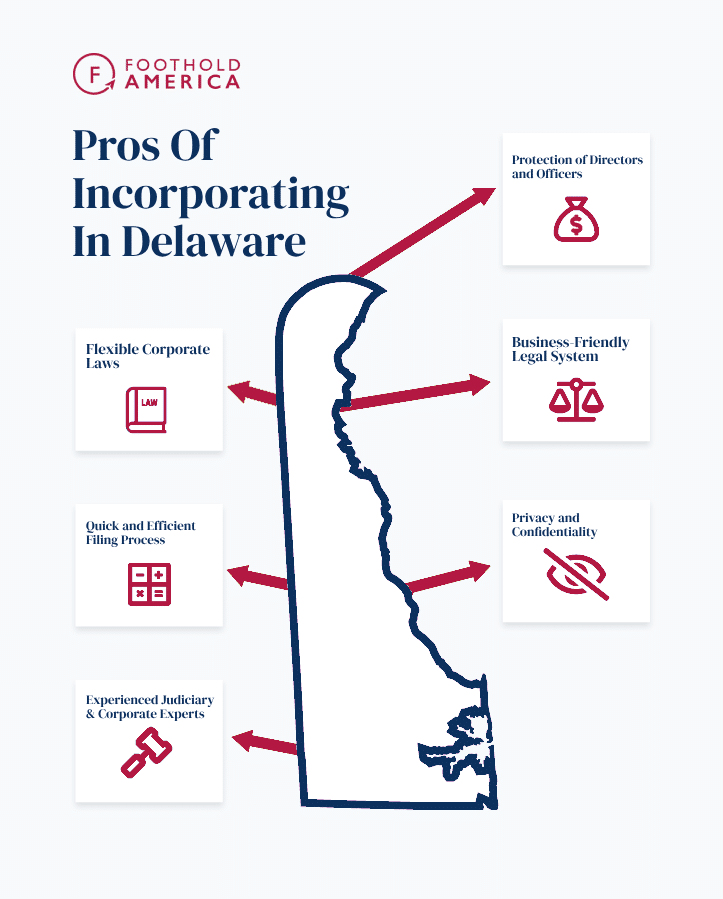 ✔️ Business-Friendly Legal System:
Delaware is renowned for its well-established and sophisticated legal system, which is specifically designed to address the needs of corporations. The Court of Chancery, a specialized business court, offers fast and efficient resolutions for corporate disputes, providing certainty and predictability in matters affecting companies.
✔️ Flexible Corporate Laws:
Delaware's corporate laws are highly flexible and provide businesses with substantial freedom to structure their operations. The Delaware General Corporation Law (DGCL) allows companies to create different classes of stock, which is particularly advantageous for startups seeking to attract investors or issue equity-based compensation to employees.
✔️ Protection of Directors and Officers
Delaware offers strong legal protections for directors and officers of corporations. The DGCL provides extensive exculpation and indemnification provisions, which shield directors and officers from personal liability for actions taken in the course of their corporate responsibilities. This provides a level of comfort and security for those serving on boards or managing corporate affairs.
✔️ Privacy and Confidentiality
Another significant advantage of incorporating in Delaware is the privacy and confidentiality protection it offers. Delaware allows businesses to keep their shareholders and directors' information confidential, protecting sensitive data from public disclosure requirements.
✔️Quick and Efficient Filing Process
Delaware is known for its efficient and swift filing process when it comes to business registrations. According to the Delaware Division of Corporations, filing a business entity can take as little as one day.  Delaware's quick and efficient filing process makes it a popular choice for businesses looking to incorporate in the US.
✔️Experienced Judiciary and Corporate Experts
With decades of experience, Delaware's judiciary is highly specialized in corporate matters. Moreover, the state is home to numerous professionals well-versed in corporate law, such as lawyers, accountants, and corporate service providers. Their expertise and familiarity with Delaware's legal framework make it easier for businesses to navigate incorporation and ongoing compliance requirements.
Disadvantages of Incorporating in Delaware
Although Delaware offers numerous benefits, there are also some disadvantages and considerations to keep in mind:
Setting up and maintaining a business in Delaware can be more expensive compared to other states. Delaware charges higher fees for forming and maintaining corporations, and there may be additional costs associated with hiring registered agents and compliance services.These include:
Incorporation fees: The fee for filing a Certificate of Incorporation with the Delaware Secretary of State is $89. 
Registered agent fee:

Delaware requires all entities to have a registered agent with a physical address in Delaware. The annual fee for a registered agent in Delaware can range from $50 to $500 or more depending on the chosen agent and services provided. 

Business licenses and permits

: Depending on the type of business activity and industry, the fees for obtaining necessary business licenses and permits can vary. The fees range from $50 to $200, and some permits require an annual renewal fee. 

Franchise tax:

Delaware requires businesses to pay an annual franchise tax. The minimum tax is $175, but the amount can vary depending on the business entity type and the number of authorized shares.  

While Delaware is often considered one of the most popular states for incorporation due to its business-friendly laws and well-established legal system, there are several other states in the United States that offer cheaper options for incorporation. Some of these states include: Nevada, Wyoming, New Mexico, North Dakota,Montana or Florida.
❌ Double Taxation for Multi-State Businesses
If your business operates in multiple states, incorporating in Delaware may result in double taxation. Your Delaware corporation will be subject to Delaware state corporate income tax for any income generated within the state, as well as the corporate income tax of the other states in which you conduct business.
As the preferred state of incorporation for many businesses, Delaware's courts are often swamped with corporate litigation cases. This may increase the potential for legal disputes and requires companies to be prepared for potential litigation costs and delays.
How to register a business in Delaware?
Registering a foreign business in Delaware, USA involves several steps. Below is a general outline of the process. Please note that it is important to note that the process and requirements may vary depending on the specific circumstances of your business and changes in regulations. It is advisable to seek professional legal assistance or consult with the Delaware Secretary of State's office for accurate and up-to-date information throughout the incorporation process.
1. Choose a Registered Agent
Select a registered agent who will act as your business's official point of contact in Delaware and receive legal and official documents on behalf of your company.
2. Decide on Business Structure
Determine the type of legal structure you want for your business, such as a corporation or a limited liability company (LLC). Each structure has distinct legal requirements and implications, so consult with an attorney or business expert to make the right choice.
Choose a unique name for your foreign business that complies with Delaware's naming rules. Ensure that the name is not already in use by another business in Delaware.
4. File Certificate of Incorporation
Prepare and file a Certificate of Incorporation with the Delaware Secretary of State. This document typically includes details such as the company name, registered agent information, business purpose, and the number of authorized shares for a corporation.
5. Obtain an Employer Identification Number (EIN)
6. Comply with Delaware Franchise Tax and Annual Reports
 Delaware requires businesses to pay an annual franchise tax and file an annual report. The franchise tax amount depends on the type of entity and the number of authorized shares. Failure to pay the franchise tax and file the annual report can result in penalties.
7. Obtain Necessary Licenses and Permits
Identify and obtain any business licenses or permits required to legally operate your foreign business in Delaware. The specific requirements vary depending on factors such as the nature of your business, location, and industry.
8. Maintain Compliance and Good Standing
 Regularly fulfill ongoing compliance requirements, such as timely filing annual reports and paying franchise taxes. Additionally, ensure that your business operates in accordance with all applicable laws and regulations.
How to set up a US Subsidiary
An important consideration for foreign companies wishing to do business in the USA is whether and when to form a US entity. In this eBook, discover when and why businesses should consider setting up a US entity.
Yearly Comparison of Business Registrations in Delaware
According to Delaware.gov, Delaware continues to be the domicile of choice for members of the Fortune 500 at 68 percent. Below, you can see the comparison of LLCs, Corporations, LPs, Statutory Trusts and Total Business Entities registered in Delaware in 2020, 2021 and 2022. 
| | | | |
| --- | --- | --- | --- |
|   | 2020 CY | 2021 CY | 2022 CY |
| LLCs | 1,109,736 | 1,291,911 | 1,403,986 |
| Corporations | 336,270 | 370,404 | 386,254 |
| LPs/LLPs | 117,430 | 137,188 | 148,970 |
| Statutory Trusts | 23,829 | 25,547 | 26,900 |
| Total Business Entities | 1,587,265 | 1,825,050 | 1,966,110 |
"Expanding your business to the United States by opening a Delaware entity is like unlocking a world of opportunities. With a favorable business climate, easy access to the international market, and an efficient incorporation process, Delaware offers the perfect platform to achieve your global business goals."
Popular Companies Incorporated in Delaware
Delaware's favorable legal environment has attracted numerous notable companies to incorporate in the state. Some of the well-known companies that have chosen Delaware as their home include:
Google's parent company, Alphabet Inc., is incorporated in Delaware. The company's choice of Delaware highlights the state's attractiveness for technology and innovation-focused organizations.
One of the world's largest beverage companies, The Coca-Cola Company, is another example of a prominent business choosing to incorporate in Delaware. This decision reflects Delaware's appeal as a business-friendly state for large corporations.
Facebook, the social media behemoth, is also incorporated in Delaware. The company's incorporation in Delaware showcases the state's appeal for startups and technology companies aiming to grow and scale rapidly.
Delaware State Facts for US Business Expansion
When considering business expansion and setting up a company in Delaware, there are several key state facts that make it an attractive destination:
👌 Business-Friendly Environment
Delaware has gained a reputation as a business-friendly state due to its pro-business regulations, efficient legal system, and well-established business laws.
Delaware's corporate law is highly regarded and provides clear guidelines for businesses operating in the state. The Delaware Court of Chancery specializes in resolving corporate disputes, offering expertise and stability for businesses.
Delaware is known for its favorable tax environment. It does not have a sales tax, and its corporate income tax is competitive and provides incentives for businesses.
Delaware benefits from a well-developed infrastructure, including an extensive transportation network, access to major markets on the East Coast, and proximity to major cities like Philadelphia and Washington D.C. This infrastructure facilitates business operations and access to customers and suppliers.
Delaware's economy is diversified, with strengths in industries such as finance, healthcare, information technology, agriculture, and manufacturing. This diversity mitigates risks associated with relying on a single industry and provides opportunities for various business sectors.
These state facts contribute to Delaware's reputation as a premier location for businesses looking to expand. It offers a supportive environment, strong legal framework, favorable tax policies, and a diverse economy that fosters innovation and growth.
–
Please note that while these facts provide an overview, it is essential to conduct further research and consult with legal and financial professionals to make informed decisions specific to your business needs.
Ready to Register Your Business in Delaware?
Don't let the complexities of incorporating in the USA hold you back. Foothold America's US Entity Setup service can help you navigate the process of registering your business in the United States.
With our deep understanding of US incorporation laws and regulations, we can guide you through every step of the process, providing you with peace of mind and ensuring compliance. Our experienced team will work closely with you to understand your business goals and tailor a solution that meets your specific needs.
Take the first step towards expanding your business in the USA. Contact Foothold America today to learn more about how we can help you establish your presence in the thriving US market.
Get answers to all your questions and take the first step towards incorporating your business in Delaware.